CAREC Webinar on Facilitating Diversification—and Economic Recovery—through the Services Sector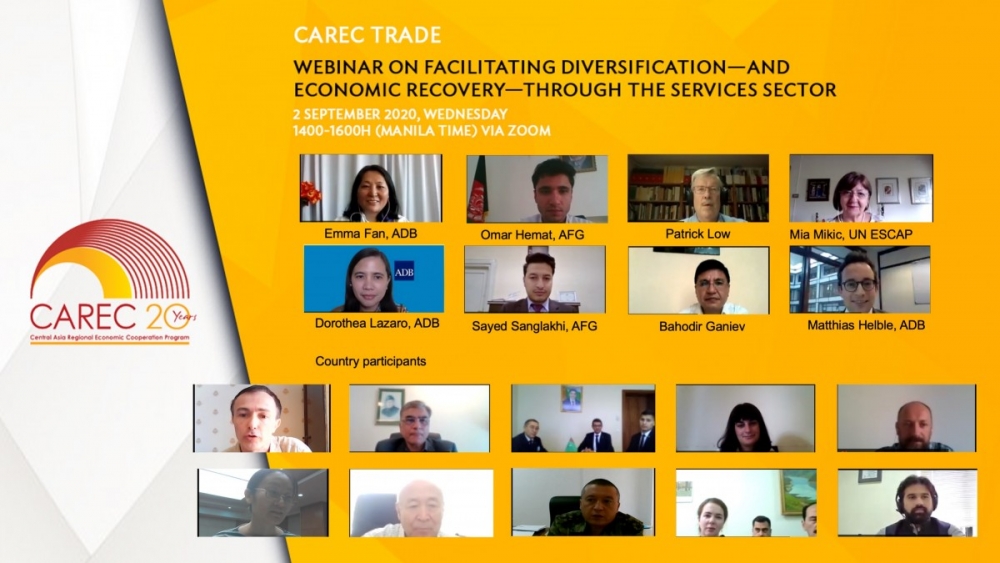 CAREC members discussed the challenges and opportunities of enhancing services trade within the region. Enabling environment and regional cooperation are key. Asian Development Bank (ADB) Public Management, Financial Sector, and Regional Cooperation Division (EAPF) Director Emma Fan and Director General Omar Hemat of Afghanistan's Ministry of Industry and Commerce co-delivered the opening remarks. United Nations Economic and Social Commission for Asia and the Pacific (UNESCAP) Trade Investment and Innovation Division Director Mia Mikic and ADB Regional Cooperation and Integration Division (ERCI) economist Matthias Helble joined over 100 participants in the webinar.
Participants from CAREC include Nauman Aslam, joint secretary, Ministry of Commerce, Pakistan; Fatima Musayeva, head of department, Ministry of Transport, Azerbaijan; Mariam Gabunia, head of International Trade Policy Department, Ministry of Economy and Sustainable Development, Georgia; and Zuhrudin Kenjaev and Aziz Ibrohim, department heads, Ministry of Economic Development and Trade, Tajikistan.
The event was supported by KSTA 9712: Implementing the Integrated Trade Agenda in the CAREC Program, co-funded by the Regional Cooperation and Integration Fund and the PRC Poverty Reduction and Regional Cooperation Fund.
Key Documents
CAREC Trade Sector Report and Work Plan (September 2019–July 2020) | РУССКИЙ
Presentations
Advancing Economic Diversification in CAREC Countries by Developing the Services Sector | РУССКИЙ
Comments by UNESCAP: Advancing Economic Diversification in CAREC Countries by Developing Services Economy
Comments by ADB: Advancing Economic Diversification in CAREC Countries by Developing Services Economy | РУССКИЙ